CLICK HERE for Telemedicine Compliance resource downloads.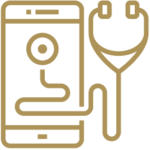 Security and Privacy Services for Telemedicine Compliance
With the rise of Telemedicine Services, all providers must meet all Health Insurance Portability and Accountability Act (HIPAA) requirements.
The HIPAA passed in Congress in 1996, outlines privacy and security standards for health care data. HIPAA compliance is critical in order to ensure proper protection of data; however, it can be difficult to implement and manage.
This means physicians need to ensure they're in a location where no one can overhear the virtual visits, which would violate HIPAA's privacy and confidentiality requirements. Additionally, physicians must use technology that's compliant with HIPAA rules. The technology should have fully encrypted data transmission and provide secure connections. Experts stress that consumer videoconferencing platforms, such as Apple's FaceTime application, do not offer those features.
Physicians that opt to work with another business or a technology provider to offer telemedicine services to patients must ensure that those partners are compliant with HIPAA regulations.
However, there are more options for Telemedicine providers. If you process credit cards, for example, you will need to be PCI Compliant as well.
While HIPAA is a regulation, Health Information Trust Alliance (HITRUST – founded in 2007) is an organization that helps you achieve those standards. The major difference is that HIPAA is simply a set of regulations while HITRUST certifies companies for achieving compliance to those regulations.
The HITRUST organization created and maintains the Common Security Framework, or CSF. The CSF is a certifiable framework that brings together several other compliance frameworks and standards including HIPAA, PCI, ISO, and NIST. With a HITRUST certification, you ensure that your organization:
At Drummond, we are happy to help you do the proper research to determine which programs are right for your telemedicine practice.
Experience our team of highly skilled experts ready to collaborate with you and your team. Increase trust, gain expertise and experience our unique approach and attention to detail as we partner with you to achieve compliance.
Speak with an advisor today.