Building trust in the cryptocurrency marketplace requires participants to have the highest level of internal controls and processes in place. The reasons are many, but attracting and expanding institutional investment, gaining new users, and expanding into new markets are why Blockchain companies are beginning to seek AICPA SOC 2 certifications for their services. Digital Wallets, Miners, and other related blockchain-based financial institutions have some unique characteristics that we will explore in this White Paper.
SOC 2 can give blockchain companies a leg up in the marketplace by assuring the security, privacy, confidentiality, processing integrity, and availability of its service. The 2017 AICPA Trust services principles and criteria (TSCs) are very applicable to Blockchain Service Organizations.
Blockchain service organizations that perform various functions in the blockchain ecosystem can adopt internal controls that meet the TSCs, their principle service level commitments, and service descriptions. A Blockchain company can deploy HITRUST, NIST, ISO 27001, CSA or even open-source internal control frameworks into their service and map those controls to SOC 2.
Through our experience with blockchain, Drummond Assurance Services has developed both tools to analyze and audit blockchain transactions, but moreover, internal control frameworks customized to meet the need of BBCs. The unique skills of our constellation bring best of breed IT auditing, penetration testing, risk assessments to blockchain and crypto-currency service organizations that want to obtain SOC 2 certification over their systems.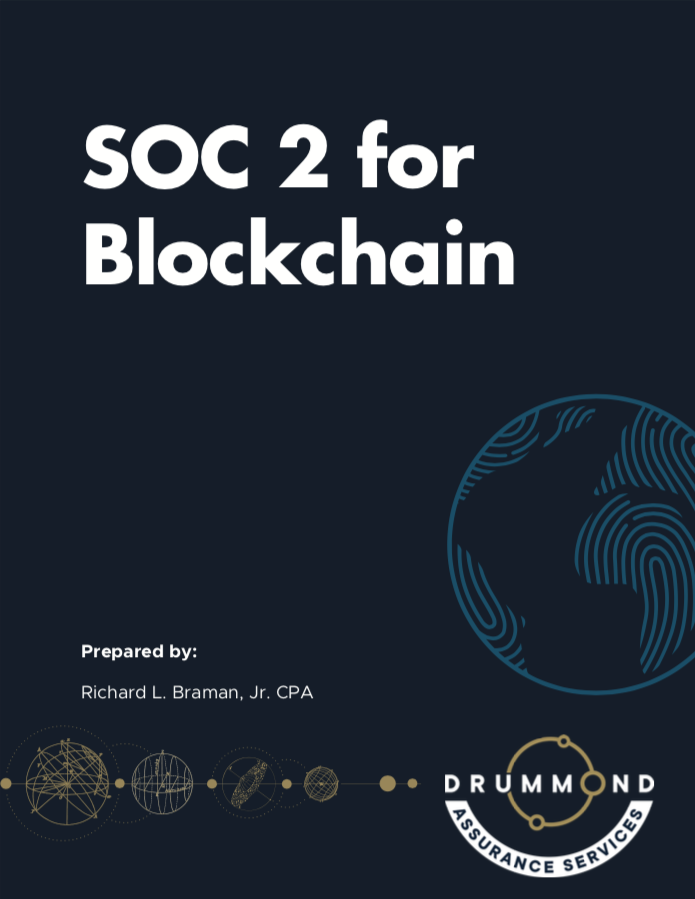 For a more detailed view of how SOC 2 complements Blockchain, download our white paper "SOC 2 for Blockchain."
For any questions on our Assurance Services on SOC 2 for Blockchain, please contact:
richardb@drummondassurance.com