Payer and Patient Access FHIR®
Certification Program
Get a competitive edge and prove to your prospects and customers your FHIR solutions meet mandated requirements, and your organization is committed to advancing interoperability.
Schedule your FREE FHIR testing and certification consultation today.
FHIR Implementation Assurance
Without independent testing, developers could be at risk of non-compliance. Drummond reduces the risk by providing a flexible testing and certification service to help you ensure your solution is compliant with CMS patient access requirements—so you can mitigate risk, gain a competitive advantage, and foster market confidence in your solutions.
FHIR Compliance Requires a Strategy
The CMS FHIR mandate roadmap is broad and spans multiple domains. The Drummond Payer and Patient Access FHIR Certification Program is flexible and designed to give the flexibility developers need to achieve certification in alignment with their product strategy.
Choose the badges you want to achieve based on your readiness and timeline.
Current Badges
Provider Directory API
Claims and Encounter Data – Patient Access API
US Drug Formulary – Patient Access API
Patient Clinical Data – Patient Access API
Bulk Data Export API
Admission, Discharge, and Event Notifications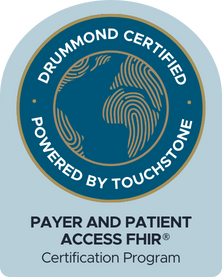 You have Questions. We have Answers.
Check out the list of CMS FHIR Certification frequently asked questions.
Start your CMS FHIR Compliance Journey Today
Prove your solutions meet the growing government, customer, and public demand for FHIR-empowered interoperability.
Achieving Drummond FHIR certification helps you ensure your products meet the highest standards of interoperability and efficiency.
As government mandates evolve, independent testing helps you reduce your risk of non-compliance enforcement action, increases confidence your development efforts meet requirements, can reduce development timelines, and enhance customer satisfaction.
Don't let your brand and products get left behind—invest in FHIR certification today and gain credibility and a competitive edge.
Fill in this form and a Drummond representative will contact you.