FTC Safeguards Compliance Validation
New to Drummond cybersecurity services? Book your FREE no-obligation consultation with a cybersecurity professional and walk away with actionable insights.
Your Path to Financial Data Protection
We understand the challenges that come with achieving and maintaining compliance. Our dedicated experts are here to demystify the process by providing a comprehensive FTC Safeguards audit tailored for non-banking financial institutions.
Our experts will help you meet regulatory requirements and build confidence in your ability to safeguard your customers' financial and personal data.
Are you FTC Safeguard Compliant?
Beyond Compliance: Building Trust
At Drummond Group, we understand that trust is the foundation of any relationship. Our mission revolves around helping highly regulated industries exceed compliance requirements, assess risk, and enhance their security posture.
We recognize that compliance is not just a formality but a strategic approach to building a secure foundation that fosters trust. Our team of experts is dedicated to auditing your security measures, pinpointing vulnerabilities, and providing clear, easy-to-implement recommendations.
When you've met all the necessary compliance requirements, you'll be awarded the Drummond Validated badge, a symbol representing your unwavering commitment to safeguarding your customers' financial data.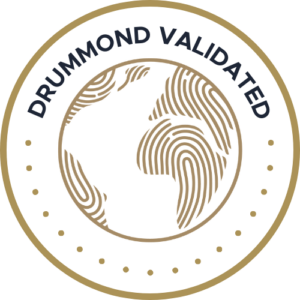 Despite the passing of the June 2023 deadline, many businesses continue to grapple with the FTC Safeguard compliance requirements, and some may have only recently become aware of its existence. 
The consequences of non-compliance are significant, including potential regulatory scrutiny, hefty fines, and reputational damage, not to mention the risk to your customer's financial data.
Cybersecurity threats are ever-present, and non-compliance is a risk that no lender can afford to take.
Drummond Group offers a proven path to FTC Safeguards compliance. 
Our comprehensive audit services extend beyond mere checkbox compliance, delving into the heart of your current programs. Through insightful multi-stakeholder interviews and actionable recommendations, we ensure you achieve full compliance.
Our commitment is to identify gaps in conformance and help you address them effectively.
Act Now to Safeguard Your Customer's Financial Data
It's time to take proactive steps to protect your business, demonstrate your commitment to data security, and build trust with your customers.
Speak with a Drummond representative and learn more about our FTC Safeguards audit so you can embark on your journey to compliance.
Fill in this form and a Drummond representative will contact you.
TRUST
There is a lot at stake.  Our staff has deep experience in certification;  we're not cutting our teeth on your project.  When you work with Drummond, you experience a team of highly skilled professionals that bring a code of honesty, empathy, and advocacy to each engagement.  Our team will help you achieve compliance and certification and look for ways to help you pursue comprehensive compliance in the service of the greater good for your business.
QUALITY
We focus on quality from every angle.  In many cases, our staff are the people who created the frameworks everyone else tests to.  We bring an exclusive and proven methodology to each engagement and look for ways to improve and be more efficient at every step of the project.  We take ownership and accountability of our work as we help you mitigate risk and achieve positive outcomes.
INTEGRITY
Ask any of our clients, they will tell you that the Drummond difference is its people.  The people of Drummond listen carefully, and tailor solutions to your unique business and situation.  Experience our team of highly skilled experts and proven methodologies and unique approach to help you achieve compliance for regulatory information security mandates.  Our team will help you test critical applications for standards conformance and interoperability and gain certifications for your long-term success.  Increase trust, gain expertise and experience our unique approach and attention to detail as we partner with you for your long-term success.