Drummond certification confirms the successful completion of rigorous criteria for pediatric EHR testing.
Portsmouth, NH, February 3, 2023 – Drummond Group LLC today announced Office Practicum, a leading pediatric-specific healthcare technology solutions provider, is the first company to receive Pediatric Health IT compliance certification. Specifically, Office Practicum achieved Drummond's Pediatric EHR certification for the ambulatory clinical setting along with Advanced Achievements for Care Team/Planning, Data Exchange & Interoperability, Immunization, Medication Management, Quality Reporting, and Well Child Care.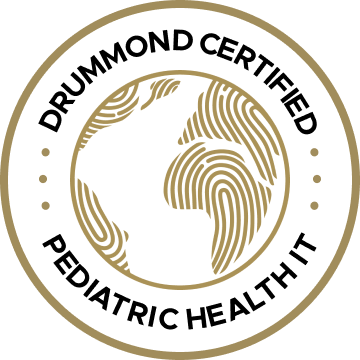 Drummond's Pediatric Health IT Certification Program was created in response to the voluntary health IT certification outlined in the Office of the National Coordinator for Health Information (ONC)'s 21st Century Cures Act Final Rule and significantly expands requirements to address clinician needs and improve child health outcomes. It was designed to supplement the agency's recommendations for voluntary certification of electronic health records (EHRs) utilized by health providers.
"OP is and has always been developed by pediatricians for pediatricians and continues to be a pioneer in meeting the needs of the pediatric community," said Kraig Brown, Office Practicum CEO. "Being the first pediatric-specialty EHR to receive Drummond's Pediatric Health IT Certification and advanced achievement in six core areas is a testament to over 35 years dedicated to building technology solutions for the unique needs of pediatric practices – empowering them to do more in less time than generic EHRs. Meeting and exceeding ONC compliance is just one way we support the providers who depend on us to stay on track with industry change."
"We congratulate Office Practicum for being the first health IT developer to complete our pediatrics certification program," said Ryan Patano, Drummond Group President and CEO. "Having a leading EHR company complete this certification is a milestone for the community which has for years worked and advocated for better functionality to improve child health outcomes."
This certification program is structured to recognize health IT vendors for excellence in pediatrics. Drummond's program also enables health IT vendors to differentiate themselves in the marketplace by demonstrating advanced capabilities beyond baseline certification.